UPDATE: Feathers UI for Haxe and OpenFL is fully funded on Kickstarter!
UPDATE: For the latest news and announcements about alpha/beta preview builds, follow the Feathers UI blog.
About eight years ago, I open sourced the code for what would become Feathers UI. I was spending my days trying to be an indie game developer at the time, and I had recently tried out Daniel Sperl's excellent Starling library. I could see that if my games switched to Starling, I'd get smoother animations and other performance improvements. For my games, I had already created a basic set of user interface components (buttons, lists, toggle switches, sliders and things like that) that worked on both iPhone and Android. After recreating those UI components in Starling, I decided that others might find them useful for building apps too. Publishing them on Github would change my life for nearly a decade.
Today, the technology landscape has changed a lot compared to 2011, with all sorts of new mobile devices — and web browsers that no longer allow plugins. While Feathers UI was generously sponsored by a company for a number of years, they've now moved in different strategic directions that, sadly, won't include Feathers. Yet, over all this time, Feathers UI has grown and matured well beyond anything that I had ever imagined. Software developers have created so many amazing apps and games, and I am constantly inspired by how they use Feathers in incredible new ways. Certainly, much has changed on the web and in the wider realm of technology, but I believe that Feathers UI still has great value for software developers building creative apps and games.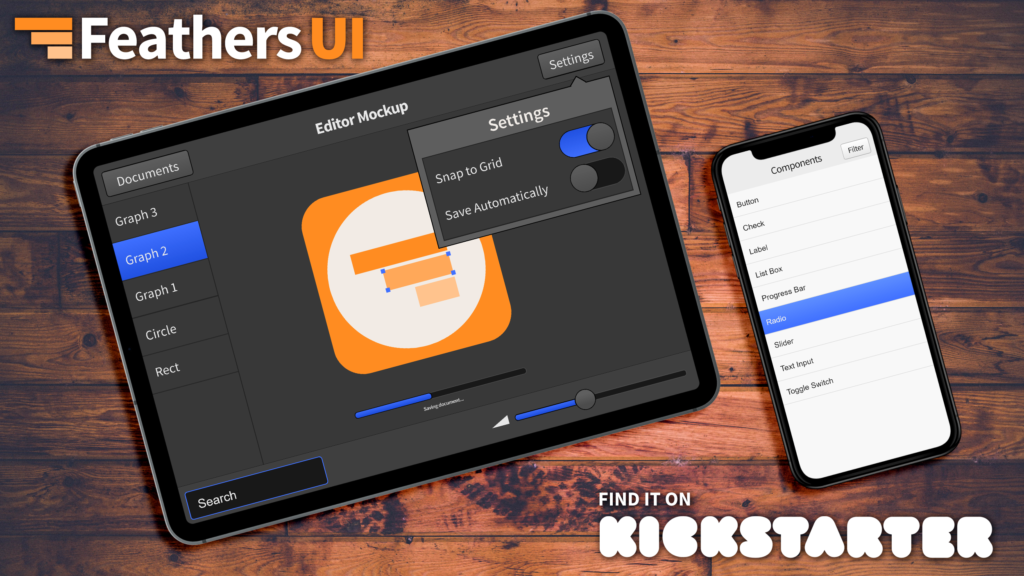 That's why I'm launching a Kickstarter for Feathers UI, and I hope that you'll support this project by becoming a backer. I'm looking to rebuild Feathers UI on a new foundation that will continue to make it easy to build cross-platform user interfaces on mobile, desktop, smart TVs, and even game consoles. This new version of Feathers UI will use the Haxe programming language and the OpenFL library. Developers who are already experienced with Feathers UI will feel right at home with a similar language and familiar APIs, but also new features and access to new platforms.
Support Feathers UI on Kickstarter
Additionally, I'm going to make Feathers UI into a more sustainable business that can fund itself going forward. I'm planning to introduce new premium add-ons that developers can purchase to support Feathers directly. These add-ons will include new advanced components (like charts and graphs), pre-made themes in a variety of styles, and in-depth technical educational content that teaches you the inner workings of Feathers UI. Of course, the core Feathers UI library will remain open source, and it will continue to expand with new UI components and features! These add-ons will be for developers with more specialized needs.
I may have written the code for Feathers UI, but the community gave it life. I hope that you will back the project on Kickstarter and help me re-imagine a modern Feathers UI that takes the best of the original Starling version, combines it with the advantages of Haxe and OpenFL, and makes it better than ever. Keep this excellent UI component and layout library in your toolbox by showing your support on Kickstarter.