At the end of 2010, I finished the year feeling a little underwhelmed. I earned less from game development in 2010 than I had in 2009—the year I started my indie adventure. I hadn't found much success in mobile, and I was hoping to take a different approach in 2011. For some reason, I didn't quite get around to that, though. 2011 became another year of mobile exploration, with some successes that make me pretty happy. Yet, the final numbers totaled up to almost exactly the same as last year's earnings. Still, I'm a little more optimistic this time around because the underlying trend shows an encouraging shift in the right direction.
The Breakdown
In total, I earned $21,551 from game development in 2011. This includes mobile device game sales, non-exclusive licensing of Flash games to portals, ad revenue from free Flash games, and a couple of small game-related freelance projects (short-term contract work). As always, I'm sharing only my earnings as a game developer. I also work on a variety of other freelance projects throughout the year that are mostly RIAs, and I sell an educational app called Logicly.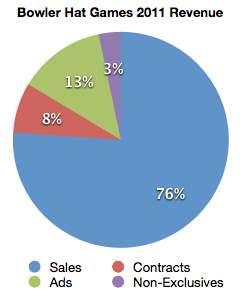 Let's start by comparing the differences in the percentage breakdown from last year to this year. Last year, freelance work brought in 79% of my game development revenue. In other words, the vast majority of my earnings came from working on games for other people. That doesn't exactly matching my goal of eventually going totally independent (or nearly so). This year, freelance work dropped to 14% (again, this is for game development only. RIA freelance projects still make up the majority of my total income). Mobile game sales went in the opposite direction from a mere 8% last year up to 80% in 2011. In spite of total earnings staying nearly the same from year to year, I've seen a major shift in what is earning me money, and it grew significantly.
The Best App Stores
Next, let's take a look at why my mobile game sales increased so strongly. Seeing which app stores performed best should make it particularly obvious: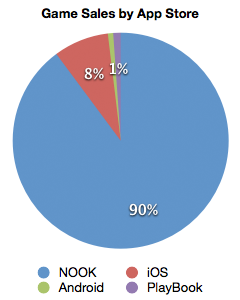 The device that deserves to be in the spotlight is the NOOK Color (and now the NOOK Tablet too) from Barnes & Noble. As you can see, NOOK apps make up 90% of my app sales. It seems to be kind of a dark horse in the app store world. I think most mobile developers don't know about the NOOK store, or they haven't given it a fair look. NOOK readers are very willing to pay for e-books, or they probably wouldn't have bought the NOOK. I took a peek at some of my favorite novels, and they sell for at least 7 or 8 bucks a piece. An extra 50% or more for newer releases. Compared to that, an app that sells for 2 to 4 dollars is no big deal. This is an audience that seems to be even more willing to spend money than iOS users—at least in my experience so far.
NOOK sales brought in over ten times more than iOS sales, while the Android Market and the BlackBerry PlayBook both got lost miles behind. Neither of those two earned over $200 (although, full disclosure, two of my games aren't yet out on Android Market and one isn't on PlayBook yet). The Amazon Appstore for Android didn't even make the cut. I hadn't earned enough to get a check in the mail from them by the end of 2011. However, Christmas sales of the Kindle Fire must have been halfway decent. App sales finally started trickling in from Amazon around Christmas. At the moment, my Amazon sales are comparable to my iOS sales. If I were to limit myself to three stores, it looks like NOOK, Amazon, and iOS come out on top, with NOOK being the absolute first priority.
Update February 10, 2012: Amazon sales are still going strong, and they're typically better than iOS on most days. Still not as high as NOOK sales, but Amazon is now number 2. Moreover, the PlayBook seems to be doing better now too, and iOS is pretty much in fourth place. Funny how things can change so dramatically, and also a sign that focusing on new and smaller app stores can be a good choice for indies without much marketing budget or experience.
Everything Else
Other revenue either came from small projects, like some portals that wanted an older Flash game site-locked or quick freelance projects that took no more than a day. Nothing significant, but a quick buck here and there for very little effort. To my surprise, ad renveue from MochiAds, MindJolt, and Google AdSense is still coming in. Ads earned me enough to pay my bills for about a month, and I did all the work to make that happen 1-2 years ago. This ad revenue won't last forever, but it's nice to have it while it lasts.
Into 2012
The huge jump in sales thanks to NOOK is awesome, and I hope to continue exploring this platform and finding apps that resonate with its unique audience. However, each new release was just a little bit less successful. I was lucky to get in at the very beginning when the number of apps was well under 1,000. As with the iOS gold rush, it was easy to get recognized by potential users because you couldn't drowned out by everyone else clamoring for attention. Thankfully, as with the Amazon Appstore, NOOK sales spiked on Christmas, and they still haven't completely dropped back down. There's still a little time to enjoy the benefits of being an early developer.
My first game, Chroma Circuit, is my absolute favorite of my creations. It wasn't the very best seller, but the fans it found have some real enthusiasm that is inspiring, and I hope I can find more of them. I've been working to release a huge new content update for quite some time, actually. Several new elements are all coded up. Some rotate like the others. Some slide around instead. They're fun new additions and there are a lot of little animations and things that add to the aesthetic experience that I didn't have the time/brainspace to add when I first released Chroma Circuit three years ago. The biggest barrier now is building new levels. I built a great little visual level editor (unlike the original version, which had hand-coded XML!), but it's still a time consuming process, and I don't want to release anything until I have over 100 levels. I'm at about 60 now, and I think I'm going to set some daily or weekly goals to get me over the last hill and to the finish line.
Other than that, I don't have many other concrete plans for the new year. I mainly want to continue releasing games that can sell decently as NOOK apps. Whether they're unique games like Chroma Circuit, or more generic ones like Sweet Shop Slots and Rivers of Olympus, I'm willing to explore both directions. I'd like to stick to shorter projects that don't go longer than a month or so, and then I can see if a bigger collection of games can create the foundation on which I can become more and more independent. If some turn into real hits, even better, but I'll be happy with small and modest successes.